Cher as Loretta Castorini in Moonstruck
Best Actress at the 60th Annual Oscars (1987)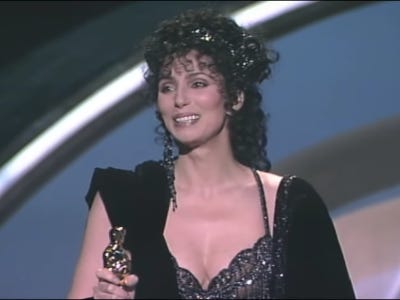 Notable Quote:
"Snap out of it!"
Synopsis:
When the moon hits your eye, like a big pizza pie, that means … you're about to fall in love with your fiancé's one-handed brother? Okay, fine … Loretta Castorini (Cher) is a woman who's given up on ever finding love, but that changes when she meets Ronny Cammareri (Nicholas Cage). The only problem? She's already engaged … to his bro!
The character:
When Moonstruck begins, Loretta is tired. Her late husband died years ago, she's getting older, and she doesn't want to be alone, so she's marrying Johnny Cammareri, a doofus that she admittedly doesn't love. She figures maybe if she does everything right, she can protect her heart: so she, for instance, makes Johnny get on his knees to propose in a restaurant even though he's in a good suit (that's what we call a power move, ladies).
That description makes Loretta sound dark and somber but she's actually really fun to watch. First of all, she's a tough broad (can you still say broad? Am I cancelled?). She will tell you exactly what she thinks, leading to incredible exchanges, like her icy responses to Johnny's sick mother dying in Italy ("She's dying, but I could still hear her big mouth." <3) But she never goes off entirely: even when she's delivering a great burn, she keeps it moving, since she's not trying to be nasty.
It also becomes clear as the movie progresses that Loretta is really passionate. She's closed off because of her loss, but she's sensitive, and when the opportunity to seize romance (with Nick Cage nonetheless) comes along, she takes it. Probably the best example of this is her stoic crying at the opera: she's never been before, and she doesn't get it immediately, but she's open to being moved by art. Another great moment comes when she tells Ronny, "Take your revenge out on me," right before they have sex, which is hilarious and kinda kinky, go Cher.
Also, her look is incredible. A really pivotal part of the movie comes when she gets her hair cut and her grays colored, and buys a fancy dress and shoes, but honestly, she looks great throughout: hair up, hair down, gray, thick or thin eyebrows, it's all amazing.
The performance:
As a gay, I'm contractually obligated to be a Cher fan. Before Moonstruck, I loved the idea that Cher had an Oscar but had no sense of whether she actually had any acting ability. I assumed this was going to be a "Cher playing Cher" performance – big over-the-top diva, and while I would have loved that, I was genuinely blown away by how incredible she was in this!
There's a couple of things that I really love about Cher's performance. First of all, it's very restrained. There are so many moments where she could have been an over-the-top, fiery Italian stereotype, but she keeps it at like, a perfect seven, rather than ramping all the way to ten. But it's not a monotonous performance, she's still really expressive, in a way that feels natural. I'm also veeery picky when it comes to accent work, and Cher's is perfect: again, it's present but controlled.
Also, Cher is funny as hell! I've always found her funny, but assumed it was more, haha, what a kooky woman, and now I'm questioning whether she's been a comedian the whole time! I especially love her delivery of, "Twice I took the name of God in vain, once I slept with the brother of my fiancé, and once I bounced a check at the liquor store -- but that was really an accident." Even her expressions are great: her look of horror when she realizes that she slept with Ronny, her shock when she sees her dad at the opera with another woman, her exasperated facepalm when Rose tells him to stop seeing said woman. Okay okay, I'll stop talking about Cher, fiiiine.
The movie:
Moonstruck is an odd little movie, but I loved it! The scale is incredibly small: I feel like there are maybe eight characters, tops? The stakes are very low: it seems like a great watch when you're feeling anxious because there's almost no real conflict. Like, Loretta accidentally forgets to deposit her aunt's and uncle's money in the bank, and they question her about it, and it seems like it's going to be an issue, but then she just lets them know that she forgot, and all is forgiven, in maybe five seconds.
The humor is also not what I associate with a romantic comedy: it's dark and wry and subversive. A major plot point is that Ronny now has a wooden hand because he accidentally cut his real hand off in a pizza shop accident, and this completely absurd detail is noted and then not really acknowledged again. Nick Cage as Ronny adds to the strangeness, because he's doing his usual Nick Cage manic thing, while everyone else is doing pretty quiet acting.
Finally, I appreciate that this movie is actually about something, which is how insane romance and love really are. I absolutely love the line about how we're here to ruin ourselves by falling in love; it's such an indelible image of how painful love can be. This movie is a little bit meta about the romantic comedy in general: meet cutes don't happen, romance is messy and problematic and difficult, and still worth it.
Was the Oscar deserved?
Yes, a thousand times over, this is a really good and unique performance.